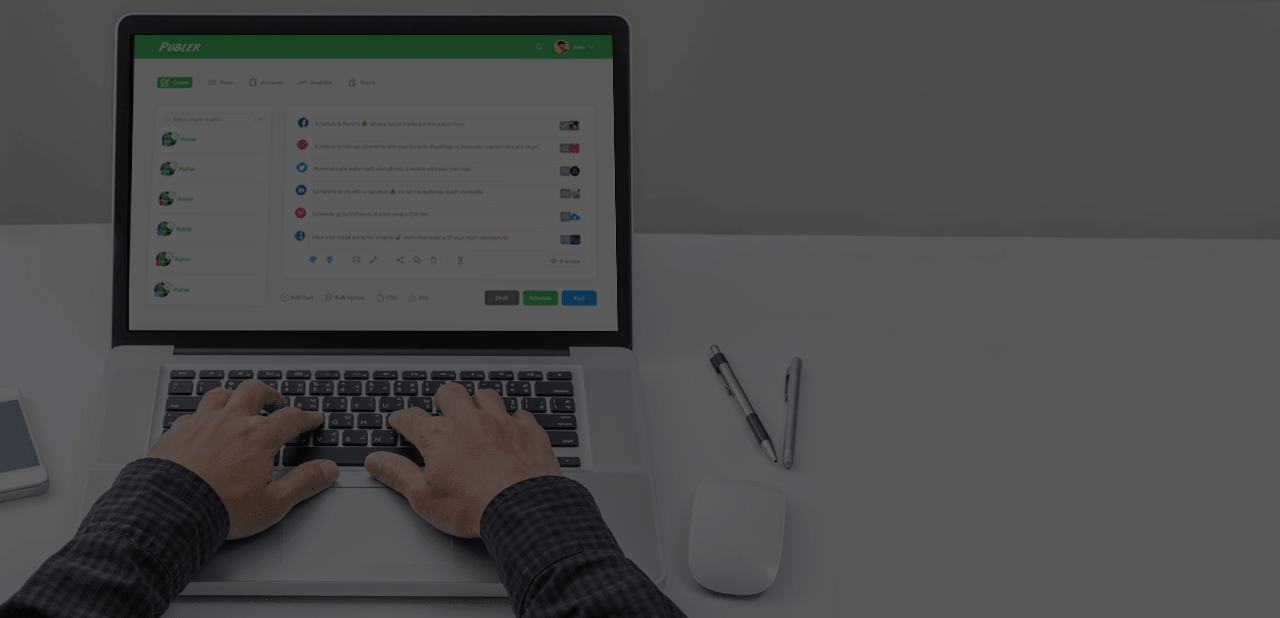 Let a superhero help you manage your social media
Schedule, collaborate & analyze your
and
posts from the same spot!
Try the free version
Already have an account? Log in
Meet Publer
Some Superheroes save lives. Others give them back.
Schedule your posts
Including new Facebook photo albums, across the Facebook Pages & Groups, Twitter, Google My Business locations and LinkedIn Profiles & Pages you manage.
Coming soon for
Auto Scheduling
Tired of manually scheduling your social media posts? Setup a posting schedule and simply fill up your queue. Publer will do all the scheduling for you.
Bulk Scheduling
From using a CSV file, to importing links from RSS feeds, to a multi-media bulk uploader, to a built-in multi-post scheduler . . . all the tools you need for mass scheduling in one place.
Team Collaborations
The more the merrier. Create multiple teams, invite other members and assign them different roles and access levels for each social account you manage.
Analytics
See your posts' reach & engagement across multiple social networks from the same spot and get the top performing ones delivered at your mailbox.
More Superpowers
Save time. Drive traffic. Focus on your business
Tailored Posts
Customize your post based on where you're posting to, i.e. more photos for Facebook, shorter text for Twitter and definitely no emojis for LinkedIn.
Watermarking Images & Videos
Automatically watermark every single photo and video you post online with your own logo. No editings skills required.
Signatures
Just like in emails, automatically add a signature to your posts. Perfect for providing a contact info in each post or some #hashtags you always use.
Recurring Posts
Easily schedule something to go out every two days, every week, every three months and so on. The options are limitless.
Post Callbacks
Schedule follow-up comments, post something on one social account and automatically share it to the rest of the social accounts or automatically delete posts after a certain time.
Shortcodes
Create shortcodes for phone numbers, addresses, websites, hashtags or anything else you repeatedly use when posting on social media.
Calendar View Mode
View your scheduled posts in a list mode or easily visualize them using the calendar view mode.
Link Shortening & Tracking
Automatically shorten your links (including those in post descriptions) with Bitly or Rebrandly.
Ambassador Program
Refer Publer to your family, friends, colleagues or anyone on the Internet and get paid.
Plans & Pricing
From personal use to small businesses to enterprises
There's a Superhero for everyone
5 Social Accounts
0 Additional Team Members
10 Pending Scheduled Posts


(per social account)

25 Saved Drafts
Tailored Posts
Auto Scheduling
Calendar View Mode
Shortcodes
Link Shortening
Flexible Social Accounts
Flexible Additional Team Members
Unlimited Scheduling
Unlimited Saved Drafts
Tailored Posts
Auto Scheduling
Calendar View Mode
Shortcodes
Link Shortening
Analytics
Bulk Scheduling
Watermarking Images
Signatures
Post Callbacks
Ambassador Program
Aurum
Starting at
$14.00
/month
Flexible Social Accounts
Flexible Additional Team Members
Unlimited Scheduling
Unlimited Saved Drafts
Tailored Posts
Auto Scheduling
Calendar View Mode
Shortcodes
Link Shortening
Analytics
Bulk Scheduling
Watermarking Images & Videos
Signatures
Post Callbacks
Ambassador Program
Recurring Posts
Multi-photo Posts


(including new Facebook albums)

Videos & GIFs